Published: January 25, 2018
| | |
| --- | --- |
| Jean-Baptiste Valadie. Unusual female portraits, nu, ganre |   |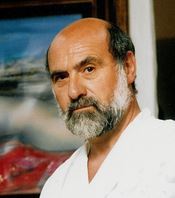 Jean-Baptiste Valadie is an artist, sculptor, engraver, lithographer and illustrator. His gallery will add even greater variety to the selection of authors on this blog. This gallery can be laconic and at the same time accurately describe the artist's words: 

  "The work of art, first of all is the result of fantasy, dream, irrationality and sensuality"

Mehdi - Mirage


---
Jean-Baptiste Valadie was born on December 29, 1933., in Brive-la-Gaillarde, France. His first steps in art made in the Paris art school Charpentier, in the Montparnasse district. Further, for four years, he studied applied art. Finished his studies in 1955.
Source:
https://www.liveinternet.ru/journalshowcomments.php?jpostid=299336973
By WuDong, &nbsp716 Views






-

Hide Comments (0)

Similar articles: